Riverside Truck Insurance
CA License #: 0I96350
---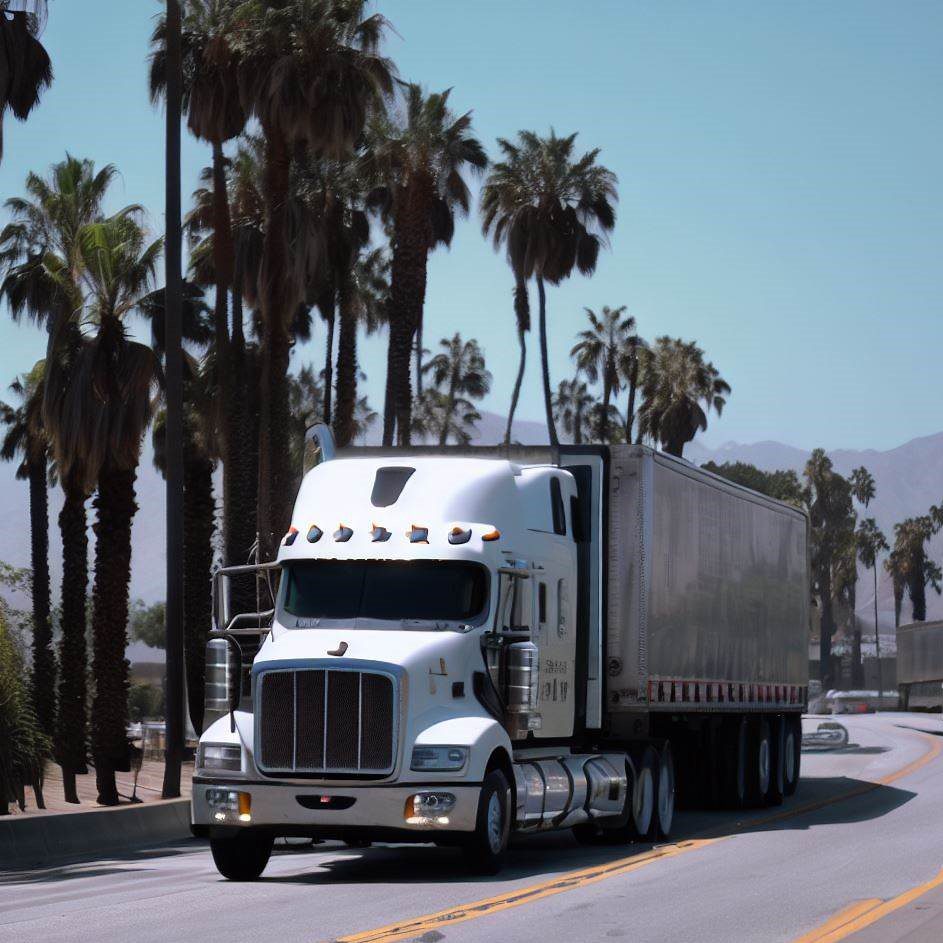 ---
---
Get On the Road with Confidence: Riverside Commercial Truck Insurance
Riverside isn't just a gem in the crown of the Golden State; it's a bustling hub for the commercial trucking industry. Nestled in the vibrant heart of Riverside County, this city is known for its warm sunshine, oranges (yes, oranges!), and a robust transportation network that forms the backbone of its thriving economy.
Riverside, folks, is more than just a pit stop; it's a freight-train powerhouse, with a melange of commodities that'd make your head spin faster than wheels on the highway. From the vast agricultural products to construction materials, manufacturing goods, and not forgetting those juicy Riverside oranges, commercial trucking here isn't just business, it's a way of life. And it's not just limited to Riverside city either, oh no, this dynamic industry extends to other cities in the county, like Moreno Valley, Corona, and Temecula.
But hey, whether you're hauling perishables from Perris or machinery to Murrieta, you've got to make sure your wheels, and your livelihood, are covered. This is where the story of The Insurance Store (TIS) starts, your guiding star in the vast sky of Riverside commercial truck insurance.
Your One-Stop Shop for Commercial Truck Insurance in Riverside County
---
Truck Liability

Truck Liability insurance – it's the big cheese! Required by law, this coverage helps protect you from the financial hit of bodily injuries or property damage caused to others in an accident where you're at fault. Think of it as your financial seatbelt when you hit a bump on the road!

Physical Damage

Now, let's say you're cruising along, minding your own business, when BAM! You've got a busted headlight, a dented fender, or worse, a total wreck. Physical Damage insurance swoops in to cover the cost of repairing or replacing your truck, keeping you from pulling your hair out!

Motor Truck Cargo Insurance

Alright, let's talk cargo, the bread and butter of your business. You're hauling precious goods, and they deserve protection too. That's where motor truck cargo coverage comes in, covering the value of the cargo you're hauling if it's lost or damaged.

Non-Trucking Liability and Bobtail

Here's a pickle - what happens when you're using your truck for non-business purposes and, heaven forbid, an accident occurs? Enter non-trucking liability and bobtail coverage, ensuring you're covered even when you're not under dispatch.

Workers Compensation

As they say, no man is an island, and in trucking, it's a team effort. Workers Comp is a must-have coverage if you have employees. It helps cover medical expenses and lost wages if a worker gets injured on the job. It's your safety net in a tight spot!

General Liability Insurance

Last but not least, we've got General Liability coverage. This protects your business from claims of bodily injury, property damage, or personal injury that can happen in the course of running your business. It's like an umbrella on a rainy day, shielding you from unforeseen financial showers!
Your Trusted Pal on the Road - The Insurance Store
At TIS, we don't just offer insurance; we offer peace of mind, a safety blanket, and a friendly smile, all rolled into one. We get it, trucking is not just a job, it's your passion, your bread and butter. You don't want to hit the road with your cargo, questioning, "Am I covered enough?" That's why our Riverside commercial truck insurance policies are designed to ensure you focus on what you do best - keeping Riverside moving.
TIS Trucking Services: Your Permit Lifeline
But hey, insurance is just one part of the puzzle. What about truck permits, you ask? Well, that's where our permits division, TIS Trucking Services, rolls in, providing a one-stop-shop for all your truck permit needs. In the tricky landscape of California's trucking permits, consider us your compass, helping you navigate with confidence.
Getting Covered with TIS
At The Insurance Store, we believe that insurance is more than just a safety net; it's a relationship, built on trust, reliability, and understanding. Our Riverside commercial truck insurance policies are designed with you, our valued clients, in mind. Whether you're a single-truck owner-operator or manage a fleet, we've got you covered.
Ready to put the pedal to the metal and secure your Riverside commercial truck insurance? Give us a ring at 800-354-8535. We're here to ensure your journey on the road of commerce is smooth, safe, and secure. So what are you waiting for? Let's hit the road, Jack!
---
Get a Quote for Truck Insurance
---
Here is what Our Happy Customers have to say
---
OUTSTANDING!!! Thank you Kelsea for all your hard work & dedication to helping Tiffani & I to get the best pricing! Again, Thank You!

Brandon Blackburn