AZ License #: 1800012486
---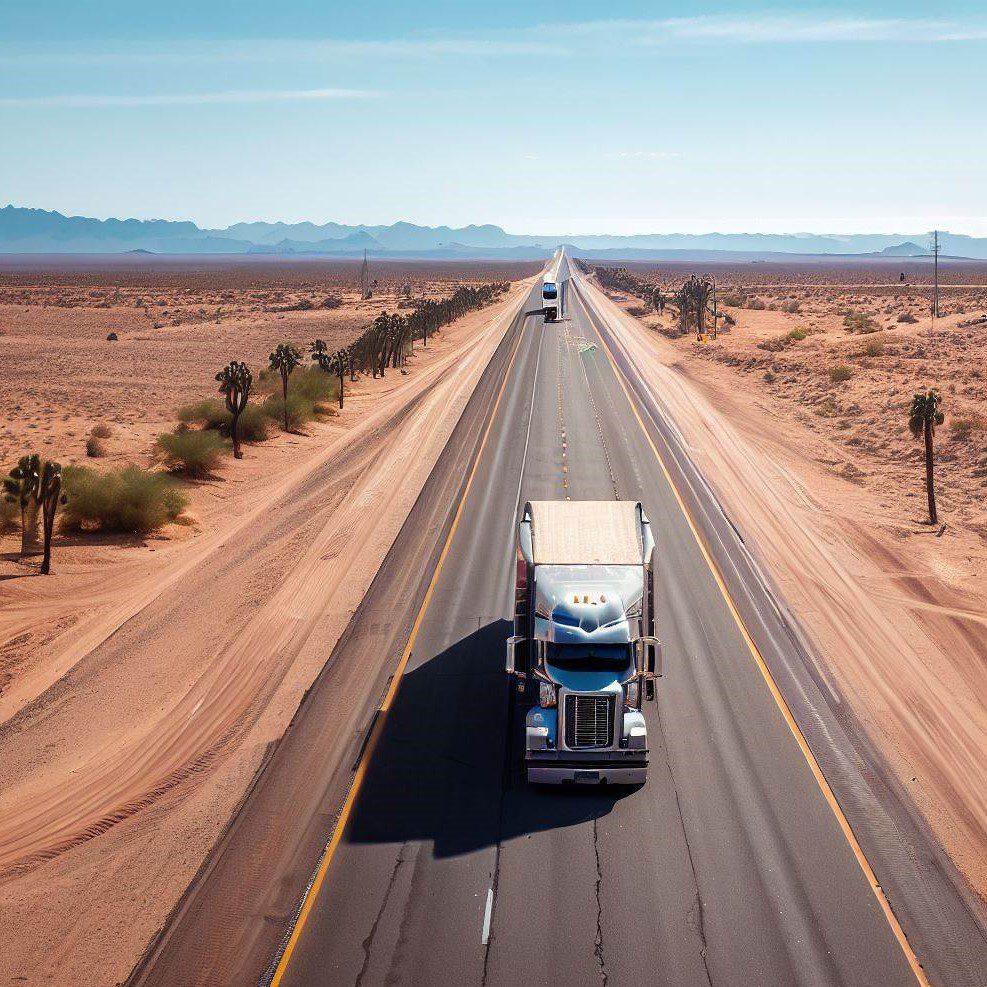 ---
---
The Wild, Wild West of Yuma Commercial Truck Insurance
Before we get rolling, let's take a moment to appreciate the gritty charm of Yuma, Arizona, nestled in the southwestern corner of the Grand Canyon State. Known for its near-perfect sunshine and the mythical Colorado River, Yuma's a little spitfire of a city that doesn't get enough credit. Famous for serving as a gateway for folks moving west in the 19th century, today it's a bustling hub of agriculture and, you guessed it, trucking!
Can't deny, there's a lot of green in this desert! Yuma boasts a robust agricultural sector, producing a bounty of lettuce, broccoli, melons, and citrus fruits galore. What's that got to do with trucking, you ask? Well, who do you think hauls these juicy, leafy products to the rest of America?
Bingo! It's the stalwart army of Yuma's commercial truckers, an essential cog in the country's supply chain, playing a mighty role in transporting those fresh goods to your table. Now that's what I call the wheels of progress!
The Nitty-Gritty on Yuma Trucking Insurance
Alright, let's shift gears and venture into the nitty-gritty of Yuma Arizona commercial truck insurance. You don't have to be a brainiac to know that trucking can be a risky business. That's where your pals at The Insurance Store (TIS, for those in the know) come into play.
---
Auto Liability

Auto liability, as you might reckon, is a non-negotiable when it comes to the law. If you're in a jam on Interstate 8, and it turns out it's your fault, this coverage steps up to the plate. It helps to cover the cost of damage to the other party's property and potential medical bills.

Physical Damage

Now, don't get your feathers ruffled if your truck gets a few battle scars along the way. Physical Damage coverage has got your back, looking after repairs to your truck if it's damaged in an accident or other unfortunate mishaps like fires or theft.

Motor Truck Cargo

Just imagine: you're hauling a load of Yuma's finest lettuce, but then disaster strikes, and your cargo gets damaged. That's where Motor Truck Cargo insurance rides to the rescue. It covers the cost of replacing the cargo, meaning your precious load of lettuce won't wilt your bank account!

Trailer Interchange

Let's say you're hauling a trailer full of Yuma's delicious melons, but it's not your trailer. Oops! You accidentally damage it. Relax, we've got you covered! Trailer Interchange insurance is just the ticket for this kind of pickle.

Non-Trucking Liability

This one's a real lifesaver for when you're not on the clock. Non-Trucking Liability provides coverage when you're using your truck for personal reasons. So, feel free to cruise down to the Colorado River for a bit of R&R without fretting over coverage.

Workers Comp

Sure, accidents can happen, but that doesn't mean your well-being should be put on the line. Workers Compensation is your safety net, providing coverage for medical expenses and lost wages if you're injured while doing your job.

General Liability

Sometimes, accidents aren't limited to the road. Slip-and-falls at your office or slander claims can strike like a rattlesnake out of nowhere. That's when General Liability steps in, offering coverage for these unforeseen circumstances.
Partnering with The Insurance Store: The Highway to Hassle-Free Coverage
With TIS, you're not just another policy number in a file cabinet. As a family-owned business thriving for 50 years, we've got a track record longer than the road from Yuma to Phoenix! Our knack for connecting with numerous A+ rated insurance carriers specializing in commercial transportation risks sets us apart.
And guess what? We're not stuck in the stone age. With our mobile app, TIS24, you can issue your certificates of insurance faster than a jackrabbit on a hot day. All from the comfort of your cab or the coziness of your couch.
Navigating the Maze of AZ Truck Permits
Don't you worry about getting bogged down in the red tape of truck permits and filings in Arizona. We've got an ace up our sleeve – TIS Trucking Services. Our dedicated permits division will smooth out the process, letting you focus on the open road ahead.
TIS: Your Trusted Co-Pilot in the World of Commercial Truck Insurance
When the rubber hits the road, what you really need is a steadfast companion. Someone who understands the ins and outs of the trucking business, offers top-notch services, and doesn't leave you high and dry when the going gets tough.
At TIS, we're not just insurance folks; we're your trusted partners, ensuring that your journey on the highways and byways around Yuma, and beyond, is as smooth as possible.
So, what are you waiting for? Don't put off till tomorrow what you can do today. For the ins and outs of Yuma Arizona commercial truck insurance, or to get a quote, give us a call at 800-354-8535. Let's hit the road together, Yuma!
---
Get a Quote for Truck Insurance
---
Here is what Our Happy Customers have to say
---
Agent was very helpful. Whenever I had a question or concern, she was always available to answer my questions.

David Fanning