Scottsdale Truck Insurance
AZ License #: 1800012486
---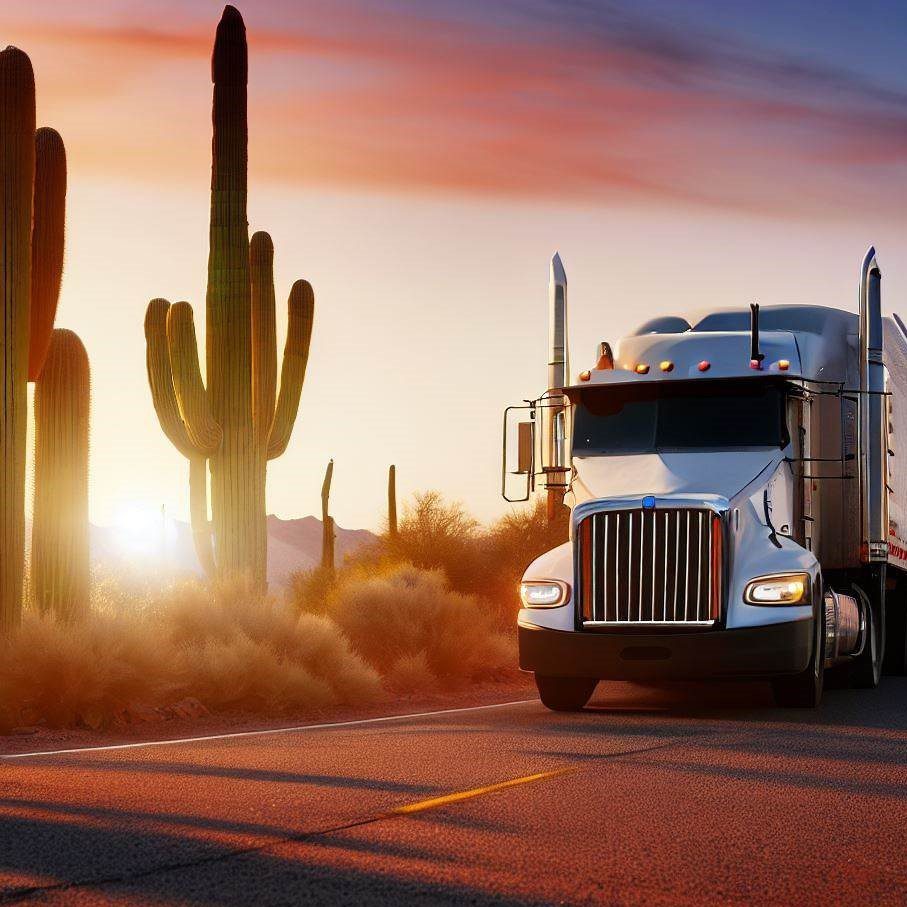 ---
---
Your Roadmap to Commercial Truck Insurance in Scottsdale
Well, howdy, folks! Do you hear that? That's the sweet sound of Scottsdale Arizona, humming with the wheels of commercial trucks and the hustling bustle of one of the country's top transportation hotspots. You see, Scottsdale isn't just about the saguaro-studded landscapes or jaw-dropping sunsets that'll have your heart racing faster than a jackrabbit in the desert. No siree, this city is a bustling hub for commercial trucking, crisscrossing with routes that transport anything from mundane mattresses to tantalizing tequilas. And whether you're hauling construction materials to the upscale suburbs or delivering foodstuffs to a restaurant by the famous Scottsdale Waterfront, you're gonna need one thing: top-notch commercial truck insurance.
Now, you might be thinking, "Insurance? Yawn!" But hold onto your hats, because we're about to change the way you view commercial truck insurance, Scottsdale style!
A Tour Around Your Insurance Needs: What's in Store
Before we hit the road, let's chat about the different types of commercial truck insurance that are as essential to your business as a good ol' Arizona ice tea is to a summer's day.
---
Auto Liability

Now, this is the bread and butter of truck insurance. If you find yourself in a fender-bender, it's auto liability that steps in. Like the quick hands of a line dancer, this coverage whisks away the financial woes associated with bodily injury and property damage.

Physical Damage

Trucks, just like us, have their good and bad days. Physical damage insurance is like your truck's personal doctor, tending to damages due to events like collisions or natural calamities. Imagine a haboob swooping in, that's when this insurance whispers, "Don't worry, I got ya covered."

Motor Truck Cargo

Scottsdale's commercial trucks are the champions of cargo. Be it artisanal cheese or building materials for Paradise Valley, the city's trucks haul it all. That's where motor truck cargo insurance comes in, providing coverage for the goods you're hauling.

Trailer Interchange

Ever played musical chairs? Well, trailer interchange insurance is like that, but for trailers. This covers any damage that might occur when trailers are transferred from one truck to another.

Non-Trucking Liability

Even when your rig's off-duty, non-trucking liability has got its back, covering personal use of your commercial vehicle. It's like your truck's guardian angel, looking out for it during its downtime.

Workers Comp

In the unfortunate event that one of your employees gets hurt on the job, workers compensation is your trusty safety net, covering medical costs and lost wages.

General Liability

And last but not least, general liability protects your business from claims involving bodily injury, property damage, and advertising injury. It's the umbrella that shelters you from legal storms.
Join the Family at The Insurance Store
As your truck's tires meet the open road, you're not just any customer to us. At The Insurance Store, you're family. Heck, we've been in this business for half a century, so we know a thing or two about treating our clients right. As a family-owned business, we offer personalized service that's as refreshing as a desert breeze.
In our inventory, you'll find a wide range of A+ rated insurance carriers specializing in commercial transportation risks. And the cherry on top? We've got a fantastic mobile app, TIS24, that lets you issue your certificates of insurance any time, any place. So whether you're relaxing at Pinnacle Peak or on the road, you can manage your coverage with just a few taps.
TIS Trucking Services: Your Guide to Truck Permits and Filings
Welcome to the land of permits and filings, fellow truckers! In Arizona, the paperwork can feel as vast as the Grand Canyon. But don't let that get your spirits down. Our permits division, TIS Trucking Services, is here to guide you. We'll navigate through the complexities, ensuring you meet all your commercial trucking permit requirements.
The Long and Short of It
In the land of sun-kissed desert beauty, Scottsdale's commercial trucking thrives. And as much as the city loves its trucking industry, we at The Insurance Store love serving those who keep the industry's wheels turning. With our wide range of coverages, top-tier carriers, and easy-to-use TIS24 app, we're here to make your journey as smooth as possible.
So what're you waiting for, partner? Don't let your truck roam the roads of Scottsdale without the comfort of our comprehensive insurance coverages. Give our friendly team a call at 800-354-8535 or request a quote today. Let's hit the road to a safer and more secure future in commercial trucking, Scottsdale style!
---
Get a Quote for Truck Insurance
---
Here is what Our Happy Customers have to say
---
Albrecht and team have been very responsive and supportive since finding me a policy. They have been able to lower my premium over the last 3-months and always answer my emails/calls in a timely manner.

D'Andre Wilson