AZ License #: 1800012486
---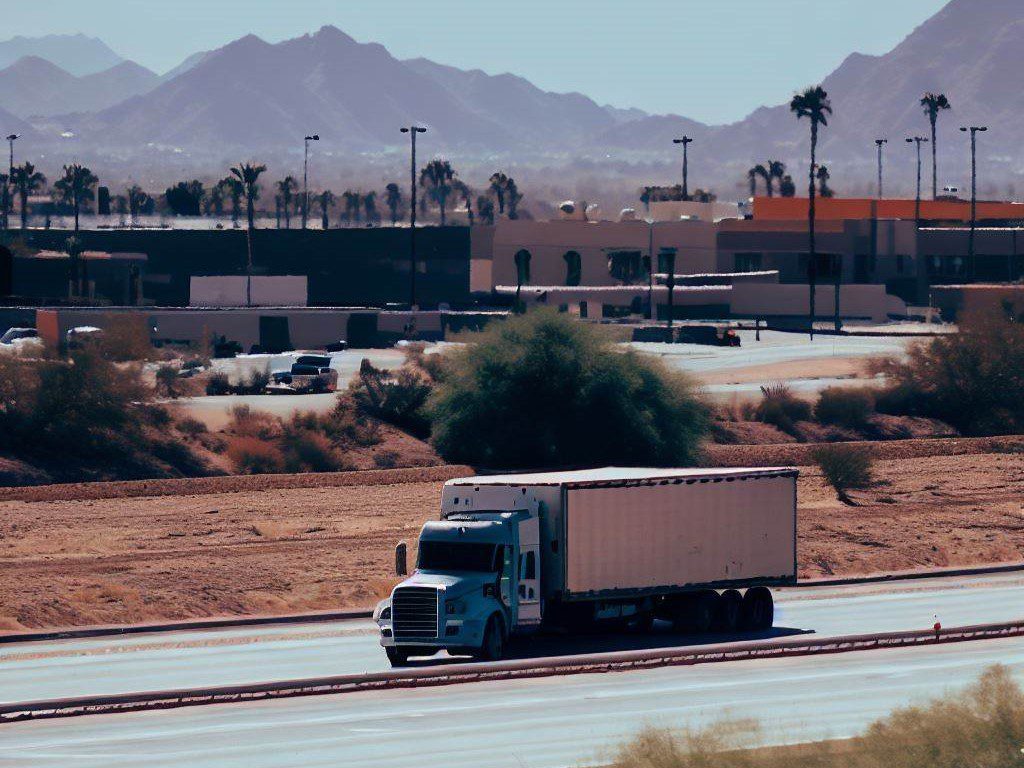 ---
---
Commercial Trucking Insurance in Mesa, Arizona
let's be honest, when you think of Mesa, you might think of the blazing sun, or maybe the beauty of the Superstition Mountains casting their shadow over the land at dusk. But Mesa is more than that, much more! It's a bustling, booming city with a thumping heartbeat in the trucking industry.
Now, you might be asking, "What's so special about Mesa and its trucking industry?" Well, that's a great question. You see, Mesa is the third largest city in Arizona, sporting a population over 500,000 folks. With such a hefty number of residents, there's a heck of a lot going on.
Our local industries are as diverse as they come, with everything from manufacturing and retail, to agriculture and construction, all singing their own unique melody in the symphony of Mesa's economy. In fact, the city serves as the backbone of the state's economy, and that's no small beans!
Trucking in Mesa isn't just about moving cargo from point A to point B; it's about connecting the dots in the supply chain, transporting essential goods like machinery, retail goods, and foodstuff. But, as any trucker worth their salt knows, the cargo isn't the only thing that needs protection. That's where our humble family-run business, The Insurance Store or TIS as we like to call ourselves, comes into play!
Your Guide to Commercial Truck Insurance Coverages
Whether you're hauling a load of fresh Arizona citrus to local markets, or trucking construction equipment to the burgeoning suburbs of Mesa, trucking insurance is as vital as the air we breathe, and about as exciting as watching paint dry. But don't you worry, the TIS team is here to make sure you've got your bases covered.
---
Auto Liability

Consider this your safety net. If your truck is involved in an accident, this coverage helps cover the damages and bodily injury suffered by the other party. Imagine driving along US 60 during rush hour and, heavens forbid, a mishap happens - this insurance has your back.

Physical Damage

This coverage is for your big rig. Picture this: your truck parked near Mesa Arts Center, and a windstorm sends a tree branch flying right into it. This coverage will help you with the repair costs.

Motor Truck Cargo

Your precious cargo needs protection too. If your load of manufacturing goods going to Phoenix takes a hit due to an unfortunate event, this coverage will take care of the loss.

Trailer Interchange

If you're swapping trailers at a depot in Tempe, and something goes awry, this coverage steps up to the plate.

Non-Trucking Liability

Even when you're not hauling cargo, you need protection. Bobtail insurance kicks in when you're off the clock, like when you're driving to Downtown Mesa to grab a bite.

Workers Comp

Protecting your most precious cargo: your team. If an employee gets hurt while unloading freight at a warehouse in Chandler, this insurance will cover their medical costs and lost wages.

General Liability

Consider this your catch-all insurance. It's like having an extra safety net for those just-in-case moments.
Why Choose The Insurance Store
Now, we at TIS don't like to toot our own horn, but we've been navigating the insurance landscape for 50 years, and in that time, we've learned a thing or two. We are proud of our family roots, and that history has given us the expertise to understand your unique needs. We work with a plethora of A+ rated insurance carriers that specialize in commercial transportation risks. So, whatever your journey, we're ready to ride shotgun!
And hey, we know you're busy. That's why we created our mobile app TIS24, a snazzy little gadget that lets you issue your certificates of insurance at any time, anywhere. You could be waiting for your breakfast burrito at a Mesa diner, and boom! You've got your certificate.
Navigating the Maze of Trucking Permits and Filings
Now we're getting to the meat and potatoes. Trucking isn't just about hitting the open road. It's a world full of permits and filings, like a spider's web of red tape. But don't fret, our division TIS Trucking Services is here to help. We know the ins and outs of commercial trucking permits in Arizona, and we'll make sure you're cruising on the right side of the law.
Wrap Up and Call to Action
Well, folks, that's the long and short of it. Mesa Arizona Commercial Truck Insurance might seem like a mouthful, but when you're part of the TIS family, it's as easy as pie.
So, why not give us a ring? Our friendly team is ready to take your call at 800-354-8535. We can't wait to help you navigate the wild west of commercial trucking insurance. After all, in this fast-paced world of trucking, isn't it nice to have a little peace of mind? Don't be a stranger, now! Call us today for a quote and let's make your trucking journey a little smoother.
---
Get a Quote for Truck Insurance
---
Here is what Our Happy Customers have to say
---
Cynthia provided excellent information and service in an extremely timely matter when I needed it. Much was riding on her quickness to provide our customer with the needed information so we could service our client with their last minute request.

F & Z Trucking LLC