AZ License #: 1800012486
---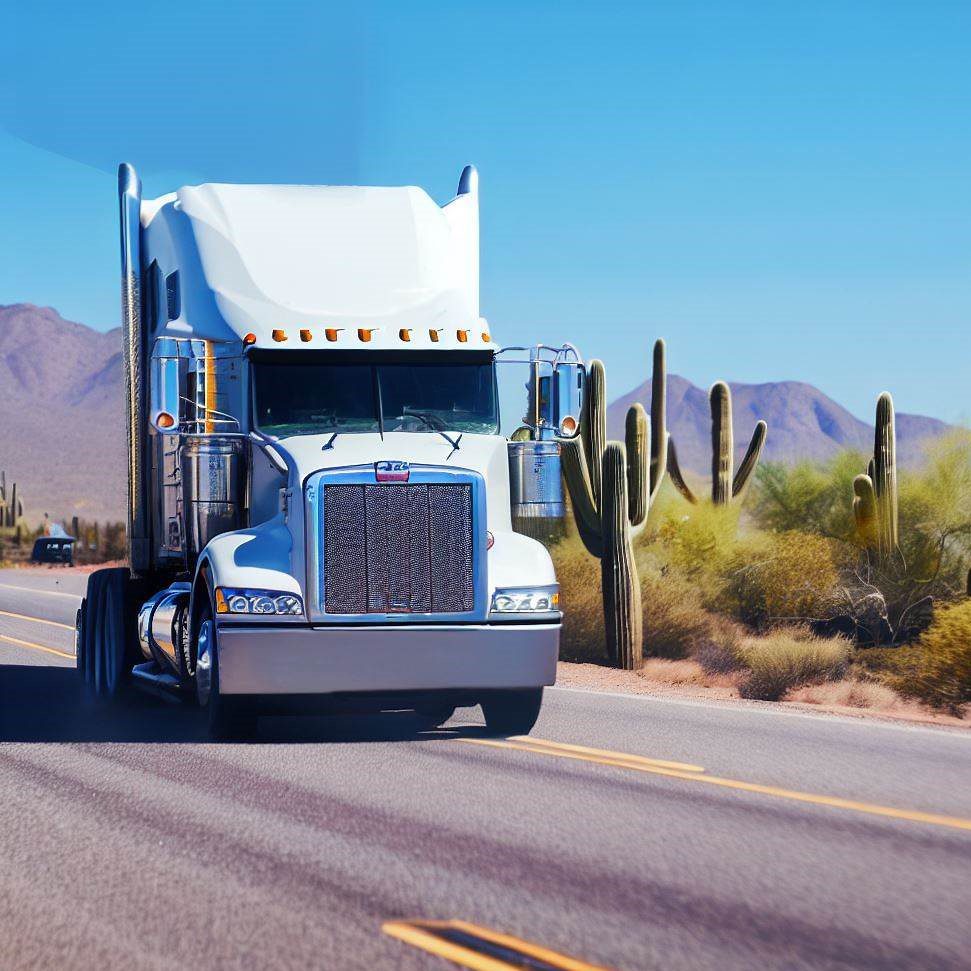 ---
---
Commercial Truck Insurance in Glendale, Arizona
Ah, Glendale, Arizona! What's not to love about this sun-kissed city? This lively town, tucked away in the heart of Maricopa County, is known for its old-world charm, vibrant sports culture, and let's not forget, a burgeoning trucking industry. You might be surprised to learn that this city, home to the annual Chocolate Festival and the antique capital of Arizona, is a key player in the trucking and transportation niche.
In Glendale, the lifeblood of our economy is trucking. From bulky construction materials and hefty machinery to the freshest produce for our markets, our trusty trucks tirelessly trek through the city and beyond. The bustling trucking activity in Glendale is mirrored by the dynamic flow of the Agua Fria River, serving as the city's life vein. Just as we marvel at the cardinal directions of our city's roads, converging at the iconic Cerreta Candy Company, we find the trucking routes crossing paths, connecting suburbs like Arrowhead Ranch, West Plaza, and Cactus, and making their mark on the map.
Deciphering Commercial Truck Insurance Coverages
But hey, where's the rubber meets the road in all this? Glad you asked! We're talking commercial truck insurance in Glendale, Arizona, my friend. Now, don't let that frown become your trademark. We got you covered, literally and figuratively!
---
Auto Liability

Auto Liability is your financial safety net in case your truck gets into an accident and it's your fault. And trust me, nobody wants to be on the wrong end of a lawsuit, especially not when you've got a load of Yucca plants waiting to be delivered to the Desert Botanical Garden!

Physical Damage

With Physical Damage coverage, your truck's repairs or replacements are covered, making sure you're back on the road faster than a roadrunner on caffeine.

Motor Truck Cargo

Glendale, being an important hub in the transportation network, sees a variety of goods passing through. Motor Truck Cargo insurance is a necessity whether you're transporting the finest Arizona wines or a heavy shipment of industrial machinery. It covers the freight or commodity in case it's damaged or stolen.

Trailer Interchange

For all you truckers regularly hauling goods from Glendale to Phoenix using different trailers, the Trailer Interchange coverage is for you. This is your safeguard in case the trailer under your care meets with damage or loss.

Non-Trucking Liability

Non-Trucking Liability coverage has your back for these non-business related accidents.

Workers Comp

For the hardworking trucking teams, Workers Compensation covers medical expenses and lost wages if a worker gets injured on the job. Because let's face it, even the most careful cat can trip.

General Liability

This is your umbrella coverage, protecting your business from financial loss in the event of an accident or other mishap. It's like having an extra layer of sunblock on a blistering Arizona day.
The TIS Team: Your Pit Crew in the Trucking Insurance Race
Now, finding the right insurance can be more confusing than trying to figure out why Glendale is called a "bedroom" community (we promise, it's not about selling mattresses!). This is where The Insurance Store strides in, ready to turn the complexity into simplicity.
The Insurance Store, a family-owned business for 50 years, has been working tirelessly (no pun intended) to provide top-tier commercial truck insurance. They are like a seasoned quarterback, having access to numerous A+ rated insurance carriers specializing in commercial transportation risks.
In the fast-paced trucking world, convenience is key. The TIS team has revolutionized insurance handling with their mobile app, TIS24. It's like having a mini-insurance office right in your pocket, allowing you to access your policy information and issue certificates of insurance at any time, anywhere. Yes, even if you're gazing at the beautiful sunrise over Thunderbird Conservation Park!
Permit Us to Explain: Understanding Truck Permits and Filings in Arizona
In the Grand Canyon State, commercial trucking permits and filings can seem as complex as the twists and turns of the White Tank Mountain trails. TIS's very own division, TIS Trucking Services, has mastered the art of making this maze of paperwork as smooth as a drive down our picturesque Northern Parkway.
A Call to Action
So, whether you're hauling goods across Bell Road or crisscrossing between our charming suburbs, make sure your insurance game is on point. The TIS team, with their years of expertise and understanding, is waiting at the other end of the line to make your trucking journey safer and more efficient.
Ready to have peace of mind and focus on the open road? Give our friendly team a jingle at 800-354-8535 or request a quote today. Because, remember, in Glendale, we don't just move goods, we move the economy, one truck at a time!
Safe travels, friends, and keep on truckin'!
---
Get a Quote for Truck Insurance
---
Here is what Our Happy Customers have to say
---
Kelli was very helpful in process of acquiring Truck Insurance and staying with us during delayed process of waiting on truck to arrive. Very professional. Thanks!

Jeff Wolf