Growing up in the hills of Tierrasanta with five other siblings led to many adventures down the canyon. Fort building, rattlesnake catching, and torch building with a can of gasoline that nearly resulted in a complete canyon fire kept us busy most days. During my sophomore year of high school, I started playing volleyball, which I fell in love with. After my first season, my parents had me playing for a top volleyball club called Seaside. I went to Serra High School where our colors were brown and gold (hence the reason I never got a letterman's jacket). Everyone thought that by the time I graduated from high school I would be much more mature, but my administration apparently did not think so because they held back my diploma due to my dog barking and loud whistling during graduation!
After graduating high school, I attended a semester at BYU in Provo where I decided to study Business Marketing.  During my first semester in college I also made an attempt to play volleyball for BYU, before deciding to serve a two-year mission for the LDS church. Luckily for me I was called to serve in Milan, Italy.  This is where I fell in love with gelato, pasta, pizza, all Italian food, Italian neckties, and the culture as a whole.  The LDS mission helped shape me into the person I am today; it taught me many lessons that live with me today: faith in God, independence, perseverance, and ultimately how to make connections with people.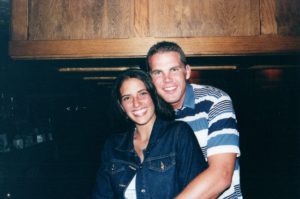 In the summer of 2001, I was attending church in Mission Valley, CA with my sister Lisa Thunstrom when my life changed forever.  Entering the chapel from the back, I turned around to see the most beautiful women alive walk into the building, in her jean skirt and red V-neck shirt.  I nudged my sister Lisa at the time and said, "I am going to marry that girl!"  So naturally as soon as church was over, I went to get her name and her phone number.  Her first impression was a little different than mine as she told me later, I was a bit arrogant, but I was hooked.  Our first lunch date is when she fell for me- the moment I spilled an entire pitcher of water on my lap!  ? We started playing volleyball on the beach every day after work and soon one thing led to another.
September 29th, 2001, I proposed to Tiffani Storrs on Catalina Island.  We were married less than three months later on December 22, 2001 in the LDS San Diego Temple.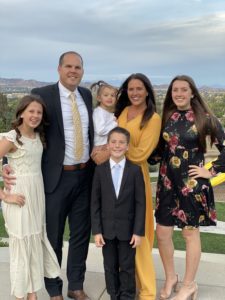 We now have four children Kalia (16), Miley (12), Crew (8), Gia (3) and have settled down in Murrieta, California.  Our wonderful life now consists mostly of chasing our kids around between their various sports activities, running The Insurance Store, and traveling with the family.  Our family enjoys boating, traveling to tropical locations, and learning the different cultures and foods around the world.  Last year we were fortunate enough to spend Christmas with our family in Fiji, where we provided Christmas to local villagers and focused on giving instead of receiving.
I started working for the Storrs Empire shortly after marrying Tiffani.  I started off selling ATV's that Norven was importing from China, and soon transitioned into the insurance world after I was considering taking a job offer from Xerox.  Norven's sales pitch on the insurance industry was simple and straightforward, and in 2003 I joined The Insurance Store in the Temecula office with just myself and Ann Cueto in a small office next to the Temecula roller rink.
Over the years, Tiffani and I have been involved in several business ventures, some successful and others not so successful, but each one has taught us valuable lessons we lean on each day.  Tiffani and I both push ourselves and the members of The Insurance Store family as we seek to uphold the legacy and tradition of excellence that the founders of TIS, Norven and Cheryl Storrs, left for us to uphold.